The Key (La Chiave) (1983)
The Key (1983)
The Key (known internationally as La chiave) is an Italian soft-core erotic masterpiece by Tinto Brass with music by the great composer Ennio Morricone and a provocative performance by Italian star Stefania Sandrelli.
Brass, best known for Caligula (1979), is a daring, but classy soft-core erotic filmmaker. After Brass was finished with Caligula, producer Bob Guccione (founder and publisher of Penthouse magazine) inserted hardcore sex scenes and recut the film. In response, Brass had his name removed from the credits. This impresses me. Mainly because that film has American notoriety and it was his chance to break into the American market, but he refused to succumb and simply walked away. Respect.
In The Key we have him doing what he does best: thoughtful soft-core erotic cinema with complicated interpersonal relationships. This is not porn. I repeat NOT PORN. But it's extremely sexy, bold, and unforgettable. And also very Italian.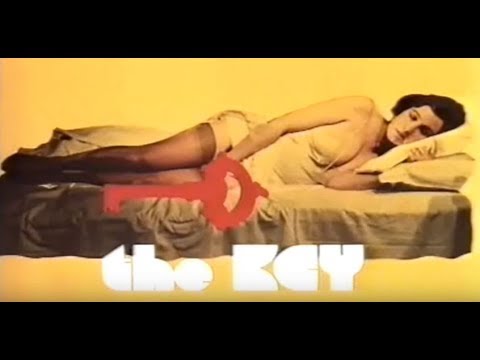 The story, based on the novel Kagi by Jun'ichirō Tanizaki, centers on four people: an elderly Englishman, his sexy wife, their daughter, and the daughter's boyfriend. The Englishman, played by Frank Finlay, is bored with the sexual relationship he has with his wife. In order to "spice things up" he leaves the key to his desk drawer on the floor of his study as if he had dropped it. In the desk sits a diary where he confesses his desires to see his wife with another man. The wife, played by Stefania Sandrelli, obviously stumbles upon the key and reads his diary. She, in turn, sets her sights on her daughter's boyfriend and begins to write her own diary about their indiscretions. Jealousy and strange erotic situations ensue and the husband and wife are changed forever.
In many ways The Key reminds me of an Anaïs Nin novel. It has that "cultured intellectual's world" vibe: a place where everyone is an art collector and they all talk about interesting things at dinner parties.
The Key is an innocent film despite its gynecological view of a woman's body (At least that is what many reviewers had to say.). The narrative bounces between husband and wife and their clandestine feelings towards their unfolding game of sexual cat-and-mouse. In many scenes the sexuality is cut before any real action can occur, but somehow this makes the movie all that more titillating. Brass is obviously a voyeur and adores the female body. He often focuses on women's buttocks and pubic hair. The physical features become fetishized. In many ways he—and his cinematographer Silvano Ippoliti—capture the female body as a figure artist would; allowing the viewer to behold the female form and draw their own conclusions. Many of the scenes play out using mirrors or photographic reminders of what happens behind closed doors.
The film was scandalous at the time of its release although it had major commercial success. Mainly because Sandrelli was a mainstream star and her performance is revealing to say the least.
If you want to check out more Tinto Brass here is his website www.tintobrass.to.
———————————————————————————————————————————————
In honor of Valentine's Day, for the next few weeks, I'll be reviewing offbeat unorthodox "romantic" international films. Here is the list: 
1/21 The Key (Italian)
1/28 Room in Rome (Spanish)
2/4 Daydream (Japanese)
2/11 A Real Young Girl (French)
Warning: These are not conventional love stories but they are great soft-core erotic films.
Send your sweetheart the gift of movies this Valentine's Day with Fandango gift cards. Good for any movie available for ticketing on Fandango.